Speech therapy is becoming quite familiar these days. There were times when people just did not know what to do with their toddlers who are not able to speak normally. These issues have been seen among people and children with language disorders and/ or brain injuries. To our fortune, these days, we have professional speech therapists and digitally available resources for such issues. Take speech therapy apps for instance. These apps come into play when there's a child with down's syndrome who needs the regular practice of speaking apart from his regular speech therapy sessions with the professional. 
What is Speech Therapy and Why Does One Need It?
The evaluation and treatment of speech and language disorders is speech therapy. Speech-language pathologists (SLPs), also known as speech therapists, are the professionals who carry it out.
The goal of speech therapy is to make communication better. Depending on the kind of speech or language disorder, these might include things like articulation therapy and activities for language intervention.
Speech disorders that begin in childhood or adult speech impairments brought on by illness or injury, such as a stroke or brain injury, may necessitate speech therapy.
Best Speech Therapy Apps in 2022
Technology is running faster than ever. There are apps for education, doctors, and now for learning how to speak. No wonders the technical revolution is at its peak at this point in time.  We have listed some of the latest and best speech therapy apps that you can use for your toddler or anyone struggling with words and speech articulation. 
1. Articulation Station: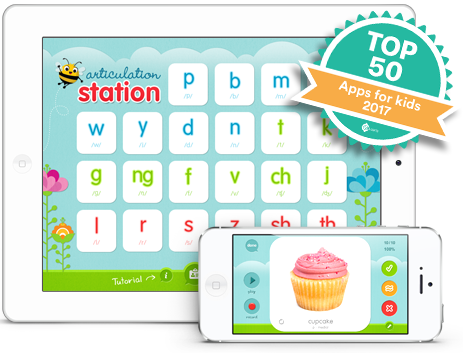 One of Little Bee Speech's most comprehensive articulation apps, Articulation Station helps children learn to pronounce and practice various sounds. Users can practice 22 sounds at the word, sentence, and story levels in the program, all of which target the initial, middle, and end positions of words.60 target words cover the majority of the sounds.
The following six distinct practice activities are available to users:
Matching game

Flashcards

Level 1 stories

Level 2 stories

Unique sentences

Rotating sentences
Additional Information:
| | |
| --- | --- |
| Rating | 4.5 |
| iOS Version Required | 9 or later |
| Size | 770.2MB |
| Price | Free or paid |
| Version | 2.8.2 |
Download For iPhone: Articulation Station App
Website URL: http://littlebeespeech.com/articulation_station.php
2. Splingo: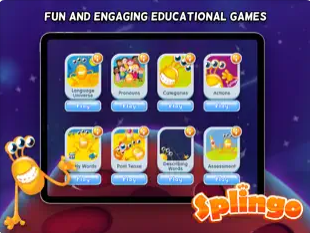 Your toddler can develop a foundational understanding of language that will last a lifetime by starting at level one and progressing to level four. Children can use the Splingo app from the Speech and Language Store to play a fun, interactive game with spaceships and aliens to develop their listening and language skills.
Speech-language pathologists created the app to focus on nouns, verbs, prepositions, and adjectives. It is possible at a variety of ages, from early language development to a much more difficult level of combining multiple aspects of language at once.
Splingo divides the content further into four groups so that the app can be tailored to each level starting from level 1 to level 4. 
Additional Information:
| | |
| --- | --- |
| Rating | 2.7 |
| iOS Version Required | 12 or later |
| Size | 836.2MB |
| Price | Free or paid |
| Version | 4.7 |
Download For iPhone: Splingo App
Website URL: https://splingo.net
3. Speech Tutor: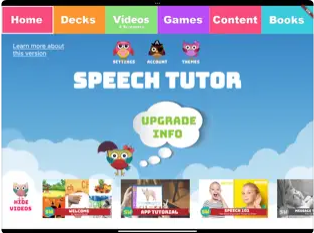 You can see how sounds are made in the mouth and throat in animated movies that can be sped up or slowed down, making it easier to overcome even the most challenging sounds. The 2-D animated movies used in Speech Tutor by Synapse Apps let you see the inside of the head from both the side and the front.
With these views, you can see every sound made without having to use your tongue. To put it another way, you can actually watch the sounds that are made inside the mouth. This teaches you precisely where to place your tongue and how to move your throat to make a particular sound, which you can't do on your own.
This comprehensive app has a lot of animations and will prompt you to choose a sound, watch how it is made, and then practice making the sound. Additionally, licensed speech and language pathologists' advice is included.
You can also watch the movies at three different speeds: medium, quick, and slow. In addition, the app will record you while you practice target sounds and play it back before and after a product that is accurately modeled.
The Speech Tutor app is available for iOS and costs $24.99.iOS 12.0 or later is required. Consider upgrading to the Speech Tutor Pro if you are a speech therapist or are looking for something more advanced. This extensive app costs $59.99, but it comes with two screens—one for SLPs and one for parents.
Additional Information:
| | |
| --- | --- |
| Rating | 3.7 |
| iOS Version Required | 12 or later |
| Size | 1.6GB |
| Price | Free or paid |
| Version | 4.1.11 |
Download For iPhone: Speech Tutor
Website URL: https://www.speechtutor.org
4. Conversation Therapy:

The term "speech therapy" refers to more than just making letter sounds; Additionally, it entails mastering conversational communication skills. Adults with disabilities, injuries, or delays can learn the nuances of conversational give-and-take with the help of this app, which improves skills.
The Conversation Therapy app from Tactus Therapy was made to get people talking, even in large and small groups. Anyone who has trouble clearly expressing themselves, including stroke survivors, people with autism and Asperger's, people with speech or language impairment, and people with Alzheimer's, dementia, or traumatic brain injury, would benefit greatly from using the app.
To begin using the app at home, select one of the twelve interest categories, such as health, current events, or hobbies. You can touch any of the ten buttons when the picture is on the screen to see a question, which can be anything from simple questions for starting sentences to more difficult questions that need more advanced answers.
Additional Information:
| | |
| --- | --- |
| Rating | 4.8 |
| iOS Version Required | 9 or later |
| Size | 94.5MB |
| Price | Free or paid |
| Version | 2.04 |
Download For iPhone: Conversation Therapy App
Website URL: https://tactustherapy.com/app/conversation
5. Naming Therapy:

Stroke patients may be able to regain their ability to match names to everyday people, places, and things thanks to the app's flashcards and practice exercises. Tactus Therapy's Naming Therapy aims to address one of the most difficult challenges a stroke victim faces: anomia, or the capacity to recall person and everyday object names.
There are four parts to Naming Therapy to help you practice recall skills:
Describe: Answer questions to learn how to describe something to another person.

Flashcards: You can look through more than 700 pictures and practice speaking. When you touch the image, the name will be spoken aloud.

Naming Methodology: Practice independently naming more than 400 images. Utilize one of the clues to locate the name if you are unable to locate it immediately.

Test of Naming: To see how many pictures you can name, take a screening test.

Tactus Therapy also offers an Advanced Naming Therapy app, which is a follow-up to the Naming Therapy App, if you're ready to move beyond the standard program.
For individuals with less severe language difficulties, this is an excellent choice. Additionally, it is an excellent tool for use after speech therapy. The Advanced Naming Therapy app costs $24.99 and is available for i0S and Android, just like the original Naming Therapy app.
Additional Information:
| | |
| --- | --- |
| Rating | 4.8 |
| iOS Version Required | 9 or later |
| Size | 324.9MB |
| Price | Free or paid |
| Version | 4.07 |
Download For iPhone: Naming Therapy App
Website URL: https://tactustherapy.com/app/naming
Winding Up
Due to the wide range of reasons for using a speech therapy app—from typical childhood delays to developmental disorders to stroke patients—some apps will be cheap and others will be expensive, depending on the needs of the user.
Because of this spectrum, we were unable to evaluate an app based on its price, but we did take into consideration the manner in which each app educates its users. We looked for apps with text-to-speech capabilities, playback speeds that could be adjusted, visual demonstrations of how sounds are made in the mouth, and plenty of practice opportunities.
See More: