You were casually using your smartphone and suddenly realized that there floats an app you don't remember downloading or using. This one app might seem useless and you might never have anything to do with it. This is what causes suspicion in your mind. If you are a little tech-savvy or know even a little more about smartphones and digital devices, you might have heard the term "hidden apps". Hidden apps can be both useful and harmful for your device depending on their purpose of installation.
Sometimes these apps come pre-installed on the device or they might as well get downloaded when you tried to download another app of your choice. At times, the android system itself insists on keeping an app hidden for its security and functioning checks. But, other times, these hidden, suspicious apps can prove to be malicious for your smartphone and cause some or other damage to it. To understand their purpose, it is important to find hidden spy apps on android. 
Android phones usually have a feature wherein the user can hide an app for their private or personal use such as messaging, some other messenger, or chatting app. This feature is often misused by teenagers and kids who are irresponsible and not aware of the harm it can do to their device and their personal data. Hence, it is always advisable to hunt down the hidden apps on your smartphone. Here, we are going to explain descriptively how you can find these hidden apps installed on your device and decide if they should be there on your device or not. 
Methods to Find Hidden Apps on Android:
1. Dive Into The Settings:
Any inconvenience happens and we open the settings of the smartphone to look for answers to our questions. So if it's about some hidden apps, why not dive into the settings of the phone first to check if you could get your hands on something? Since each gadget includes a full rundown of its applications, get to know the fundamental stages to show it. 
Find the settings icon on your phone and tap on it.

Here, to find hidden spy apps on android, you might want to get into the 'apps and notifications' settings of the phone.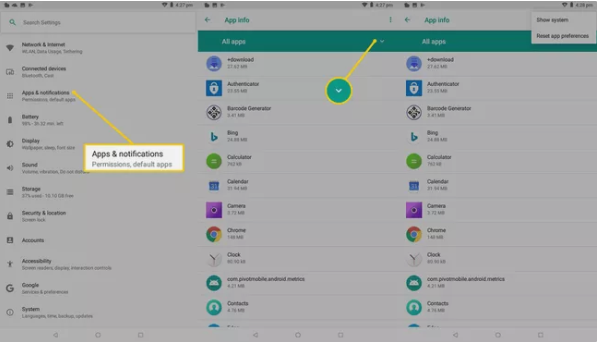 If you cannot find anything relevant here,
Please go onto the setting that deals with the management of the apps on your phone.

This could be named 'manage apps' or something else.

Right inside this setting, you have to find the contents of different apps installed on your phone.

You might also see the hidden or disabled apps setting in here.

Tap that and see all the apps installed on your phone, hidden or visible. 
2. App Drawer To Your Rescue:
The application drawer shows the total rundown of the introduced application on your gadget. You can get to the app drawer by tapping the symbol with four or six specks (shifts on the telephone) present at the lower focal point of the screen inside a circle.
Subsequent to tapping on this symbol, you will see an app drawer screen that shows the total rundown of introduced applications on your gadget organized in sequential requests. Here, you will see the vast majority of the applications present on the Android gadget, yet there might be chances that a portion of the applications might in any case be covered up. To show these covered-up applications on your telephone, follow the underneath steps: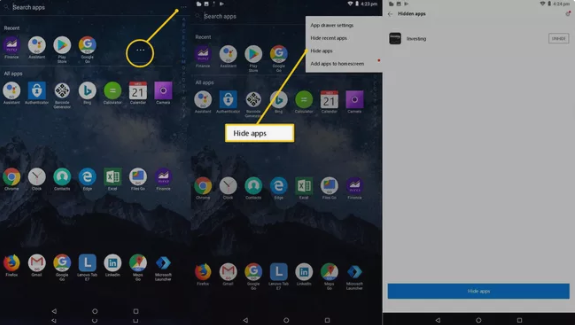 Go to the app drawer section on your smartphone. 

Now tap on the three dots on the top right corner

Move to the home screen settings option and tap it. 

This will give you an option stating hidden apps. 

Now you can see the hidden apps installed on the phone. 
3. File Manager Is Another Option To Find Hidden Apps on Android:
One more method for filtering through the applications on your telephone is by utilizing the file manager. All Android gadgets ought to accompany this component in some structure (it'll generally be a symbol named "Files").
In this way, tap the important file manager symbol to open a rundown of classifications and devices. Go into Applications and you'll see every one of the projects introduced on your gadget, as well as any Android Package Kits (APK). You can deal with everything from here, as well, from sharing to uninstalling it.
Nonetheless, the file manager doesn't necessarily show framework applications that are important for the gadget's essential capabilities. At the end of the day, go to your file manager provided that you need to find stowed away applications that the client or maker really downloaded.
One more component to remember is the Safe folder in the file manager. This is a protected spot to store records, requiring a PIN or example to open. It doesn't manage applications so much, however, it's a decent spot to search for buried information, while likewise showing the little hiding spots accessible on Android gadgets.
Conclusion:
Since it is now so obvious how to find hidden spy apps on Android gadgets in the most useful ways, it's critical to comprehend the reason why individuals would conceal information in any case. A parent would need to prevent their kid from utilizing hazardous projects, while a legal counselor — or spy — would conceal delicate data.
You can utilize these Android stunts to uncover your old applications and records, as well. In this way, getting into your own attitude helps the same amount of in recalling when and why you put them there, as well with respect to choosing whether or not to keep them.
See More: