Maybe you have heard the name of the Meesho App, especially when you have searched for something like how to earn money from your mobile. Because many people are making good money from the Meesho App. with the help of mobile, you can also earn up to 25 thousand rupees every month.
There are many apps available on the internet which give you a chance to earn thousands of rupees every month, Meesho App is one of them which is used by more than 10 million people and from this you can guess that it There is a reliable way that you can earn money from mobile.
You do not have to pay any kind of money, i.e. without investment. You can work on Meesho App from anywhere, anytime, with the help of your mobile. That is why Meesho Business is becoming so popular these days.
Today, we will provide you with complete Information about what Meesho App is and how to earn money from Meesho, steps for the Meesho app download so if you also want to make money with the help of mobile, you must read this article once.
What is a Meesho App?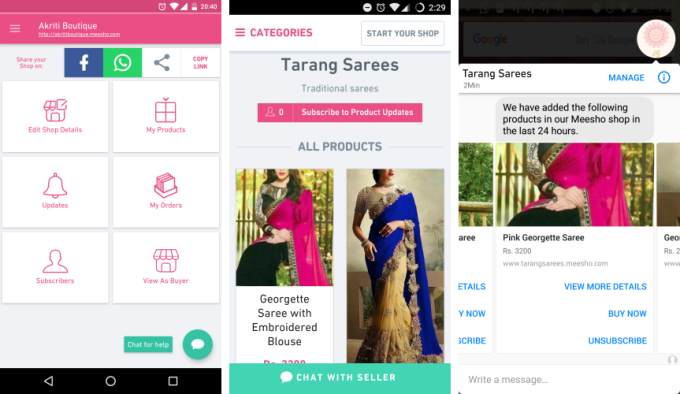 Meesho App is India's biggest Reselling App which has a product list of big wholesale companies of India. It means here you get the same product at a very cheap low price, and you can easily earn money by selling them.
Today online shopping has become a common thing, and everyone buys the same thing online. It is also cheaper than the market and doesn't need any bargaining to be done, so people are moving towards online shopping.
Now many such companies have also come, providing you with an opportunity to earn a very good amount of money by selling their goods like Amazon, Flipkart, etc. But Meesho is much better than them because you can sell any item at your price and can earn a profit.
Features of Meesho App
When you open the Meesho app, then you will come to the homepage. You will see the search bar at the top. By clicking on it, you can find the products by typing the name of any products.
Codes of all products are also given in the Meesho App. If you censor the code of any product, then you will get that product.
Friends, this is a fantastic feature. With the help of this feature, you can upload a photo of a product from your phone and find that product.
For example:- Suppose you have a photo of a shirt. Now you need the same shirt. So you can search that photo by going to the Search by Image option and uploading that photo. If the shirt you have entered is available, it will show, or all the shirts similar to it will appear in the search result.
In Meesho, you get to see many different categories of products. You can see the option of Categories in the bottom menu below. By clicking on it, you can see all the types.
You get to see options in categories like Popular, Women ethnic, Women, western, Men's, Kids, Home & Kitchen, Beauty & Health, Jewellery Accessories, Bags Footwear, and Electronics, etc.
Resell Products and Earn Money
In the Meesho app, you can earn money by reselling products. Put your margin on the products given in Meesho and share it with your friends on your social media sites.
After receiving the order, you have to place the order from your customer's demands on the Meesho app. After the product is delivered, you will get your margin in your bank account.
In the Account option, you can see the possibility of my shared catalogs. All the products you have shared will be visible to you in My shared ledger.
You will also get to see this option in the account. In this, you can see the Challenges Offer. For example, if you book three orders, you will get a spin to win up to Rs.5000 worth.
If you win a Reward Spin, you will get some credits or points. And you can get to see this option in the account.
You can use Meesho credit to place orders on the Meesho app.
For example: – If your order is 200 rupees and you have meesho credit of Rs.50 available. When you apply for Meesho credit on your order, then the final price of your order will be Rs 150.
In this app, you can discuss with other resellers related to reselling, product, and app features. You can also share your feedback. Along with this, you can participate in Polls and Contests.
In this app, you can create your logo. When you share a product, this logo will appear in the bottom corner of the image.
To create a logo, first, you have to click on the business logo. After this, you have to put a name in the logo, type it, and click "Generate". You will see many symbols at the bottom. Select the one you like and click on "Continue", now your logo is ready.
Referral – Refer and Earn
When you open the Meesho app, you will get the Referral option in the menu below. In this, you will get the chance to Invite Friends. You have to share the link of the Meesho app with your friends on social media from the option of inviting friends.
If anyone downloads and uses the Meesho app by clicking on your link, you will get a commission on that.
How to earn from Meesho App?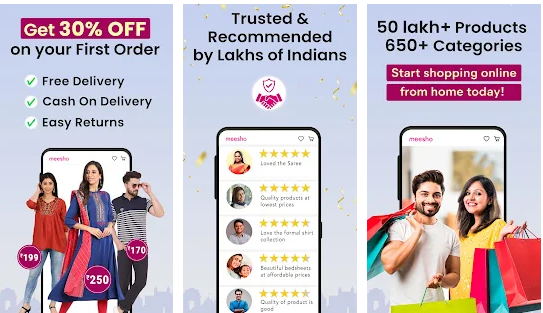 Meesho app download is very simple. So download the app first and after that, you have to create an account here. It is quite an easy process so that you will make it to your account with great ease.
After creating an account, you will have to add a bank account to it so that whenever you get any earnings from here, you will get them in your bank account. 
There are mainly three ways to earn money from the Meesho app:
Selling the products

Referring friends

By becoming a seller on the Meesho app
1. By Selling the Products
You can earn money by reselling Meesho products. You have to share those products with your friends or family by adding your margin. Suppose there is a t-shirt of rs. 200. If you want to resell it by rs. 300 then rs. 100 will be your profit. Thus, this is the best and simplest way of earning money on Meesho. 
2. By Referring Friends
You can earn money from here by sharing invite links with your friends. If someone from your referral orders a product, you will get up to ₹ 1000 for each referral.
Whenever that person orders any item, you also get a commission of 25%. This commission gets you up to three consecutive things.
3. By Becoming a Seller
For this, you have first to create an account on a meesho reseller, and you will have to submit some documents to sell your goods here.
Whenever you list your goods on Meesho and order comes from there, you have to keep that item pack, and Meesho's people will come and take your interests.
They will deliver those goods to the person who has ordered the same, after that you will get your money in your bank account. It is a straightforward way to sell your goods. There is a minimal charge for selling goods.
How to Use Meesho App?
Meesho App is straightforward because you have to share the product link on social media like WhatsApp and Facebook. Read the following options to know more.
When you open the Meesho App, you will see many products on the home screen and many deals and offers appear. This is the first option, "For You".
This is the second option where you get to see the list of all categories of products of The Meesho App, from where you can easily find the consequences of your choice. Share them with your friends to sell. Like Men's fashion, kids, women's fashion, health care, beauty products, and many more.
In this section, you get to see all the orders that have been ordered for yourself and others. Also, you can get to know about how much you have taken that product for and for how much you sell it.
This is the help section of the Meesho App, where you have been given all the Information about Meesho. It is available in both article and video format. With the help of that, you can understand the Meesho App in a better way. There you will find mainly three types of Information.
Contact Us- From here, you can contact Meesho through the mail and contact number. Its support time is 10 AM to 7 PM.
FAQ – Many people have many small and big questions related to Meesho App. You get them all here.
Blog- In this section, all Information related to Meesho App has been explained in detail, where the Information is updated from time to time.

Account
To set up an account on Meesho App, you get all the options like Bank Account Details, My Payment, Meesho Credit, Meesho Community, Refer and Earn, etc.
Meesho App Download For Android and how to Register? 
First, you have to go to the play store and search for the Meesho app. After installing the Meesho app, all you have to do is verify your mobile number. When you are done with verification, you will get to see a video that shows the Information on Meesho reselling business, how to earn money from Meesho, etc. You can skip it or watch it. You will get all the Information about reselling from this small video. After that, you are asked to fill in some basic information about yourself, such as your name, gender, address, etc. After completing, you will come to the homepage. Also, you can fill in your bank details in the " My bank details" section.
Thus, registration in Meesho is quite an easy process.
Meesho App Download For PC?
Mumu is a widely used Emulator to run Android applications on PC. As the Meesho app can't be downloaded directly, we have to install Mumu Emulator first. 
Steps to follow:
Step-1: Download the Mumu Emulator.
Step-2: open Mumu Emulator.
Step-3: Once it is opened, you must be able to see the Home screen of Mumu.
Step-4: Fine the play store on the Home screen and double click on the icon to open it.
Step-5: Now search for the Meesho app to install on PC.
Step-6: Meesho app will be installed automatically on Mumu once you click on the install button.
You can find the app under the heading of installed apps in Mumu.
Conclusion
I hope you like this article. If you are searching for the best app to earn money online from digital marketing, your destination can be the Meesho app.
Thousands of people are earning good money on this app. It has been a short time since it was launched, due to which it is also giving good profit to the reseller. Here you do not have to invest any money, do not have to go anywhere, work online from your mobile. You can earn a lot with 2-3 hours of hard work.
If you are a student, retired employee, or housewife, then you must try this platform. No boss, no pressure, work at your convenience. You can get the payment of your earnings from the bank whenever you want. So go for the Meesho app download and start earning.