These best podcast applications will get the job done whether you want to listen to your favourite podcasts, discover new ones based on your preferences, or make a custom episode playlist.
We're all overwhelmed when we discover our favourite podcast series, which are worth hundreds of hours of listening. Then we find it difficult to fully utilize all of our playlists, and we become so engrossed in them that we nearly forget to bookmark or subscribe to them for future access. To help you out, we've put up a list of the top podcast apps on Android.
Every day, we spend a significant amount of time next to screens consuming various forms of digital information such as video, audio, and news. Millennials spend an average of seventeen hours per day on electronic media consumption, including hearing, viewing, browsing, and reading.
If anyone wants to build this kind of application then contact to the Android app development company because they have experienced developers and do their job very perfectly.
Speaking about audio-based content, particularly podcasts, which have exploded in popularity recently because they are easier to consume and can be listened to while daily commuting, cooking, or even exercising. To help you stay organised, we've put together a list of the best Android podcasting apps for phones and tablets.
List of Best Podcast Apps For Android: 
 I know there are many podcast apps in the market but there is very difficult to select which one is best as per their need. So don't worry here is the list of the 10 best podcast apps for android.
Anchor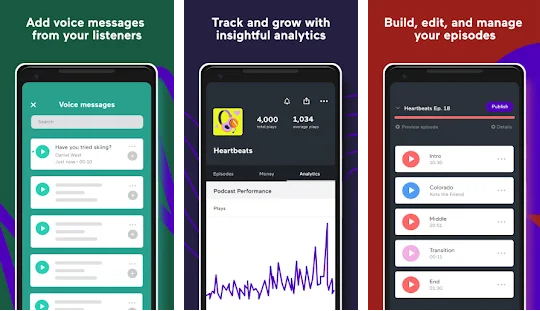 As previously said, there are numerous apps for getting and hearing to podcasts from the internet. Anchor, on the other hand, is one of the very few apps that allows you to create and listen to podcasts. It is free to download from the Google Play Store, but a premium subscription is also available. It provides unrestricted storage capacity for your music files and allows you to publish them immediately.
This programme allows you to record podcasts and import audio tracks from your smartphones. It can be used to edit audio files in order to create a flawless podcast episode.
You have the option of adding background music and editing the audio file. The Anchor app will post the podcasts to its platform as well as all other major music hosting platforms after editing the audio. It allows you to publish your podcast on all popular and premium podcast sites, like iPhone Podcast, Google Podcasts, apple, Breaker, Castbox, Overcast, and Spotify.
Anchor makes it easy to subscribe to high-quality podcasts from well-known creators. Everyone may hear to their podcast at any time thanks to the attractive user interface and functionality.
Pocket Casts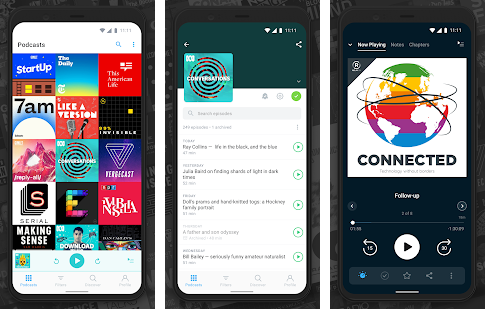 On the Android platform, Pocket Casts is a highly useful podcast player software. It provides podcast listeners with a wide variety of settings and features. Several of the podcast parameters can be readily customised within the app. It provides the most advanced search and discovery capabilities for discovering podcasts all over the world.
The Google Play Store has this app accessible for download. This is not a free app; to obtain it, you will need to pay roughly $2.Pocket Casts is a premium product with different control systems that are worth getting. The app is widely regarded as the greatest podcast app available for Android.
For active podcast listeners, it provides some hand-curated podcast recommendations. It has a number of playback effects as well as synchronisation features. Google Play Top Programmer, Google Design Patterns Prize, and Google Play Editor's Choice are just a few of the accolades this app has garnered.
Podcast Addict
Has over 9 million installations on Google Play alone, Podcasts Addiction is a very well podcast software for mobile users. It's more than just a podcast listening app. It's also noted for being users can download and listen to Audio files, Music, Vimeo, Streaming, SoundCloud feeds, and RSS Newsfeeds.
Podcast Aholic is a one-stop-shop for all of your audio entertainment needs. Select play effect, play speeds, volume boost, skip quiet, mono playback, and other useful features are included in the programme. Multiple playlists can be created and followed.
This programme can playback sound clips as a separate app, as explained above so that you can listen to the audio files from your phone's internal storage. The Podcast Addict app features appealing widgets and a user interface that can be customised. You can choose one of the three available themes based on your preferences.
You can simply narrow down your search and discover new podcasts based on particular keywords and episodes. Google Play has a free version of this software. You may get it right now and start exploring the world of podcasts.
Google Podcasts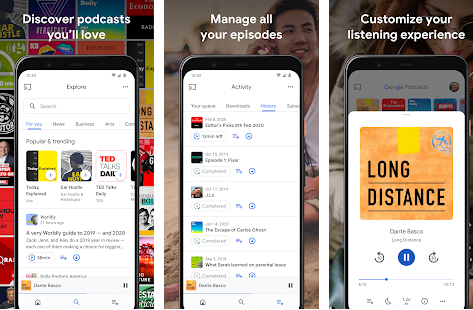 With the advent of the Google Podcasts app, listening to podcasts on Android has never been easier. Podcasts are available on three Google platforms. Podcasts are available on Google Play Music, Vimeo, and the Google Podcasts app.
It is, as you might think, a totally free app that includes search-integrated answers and also native Google Assistant integration. In addition, Google's Material Design 2.0 offers a fantastic user experience.
Standard podcast functionality such as playback speed adjustment, the option to skip quiet, and playback effects are included in the Google Podcasts app. Thousands of high-quality creators and celebrities contribute engaging podcasts to Google Podcasts, ensuring a wonderful podcast listening experience across all Google services.
The best aspect of Google Podcasts, in my opinion, is the seamless synchronisation functionality across all of your linked devices. You're on your phone, listening to a podcast. You can pause it at any time and restart it on your Google Home device of where you left off. It's that simple.
Player FM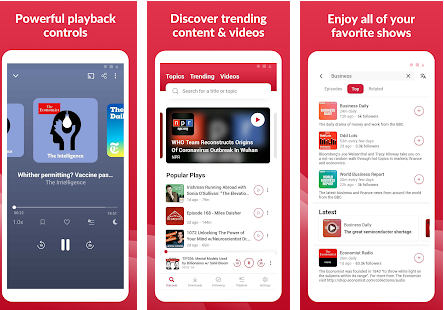 Player FM is a popular podcast listening programme that is accessible on a variety of platforms. It is, however, most renowned for its unique content discovery features. The app asks you to indicate your interests when you join up, so it can automatically locate the finest podcasts from the best sources and put them at your fingertips.
This application is not free, and you must purchase one of its paid membership plans to use it. Player FM has three subscription plans: $1 per month for Gold, $4 per month for Pro, and $10 per month for Platinum (Patron).
To listen to podcasts using your Android smartphone, I don't advocate buying a monthly recurring membership. If you want an automatic app with personalised content discovery and no adverts, however, spending simply $1 is no problem. Due to such an ad-free listening experience, you can devote all of your attention to podcasts once you've chosen the plan of your choosing.
Theming & app customization are also available on Player FM further to enhance user experience. In addition, it uses Google authentication to provide easy syncing between devices. Android Os, Chromecast, WearOS, TeslaUnread, TalkBack, Samsung Gear S alerts, LG Quick Circle, Music Boss, Podchaser, Drivemode, RockScout, and Wearcasts are among the IoT devices supported by this software.
CastBox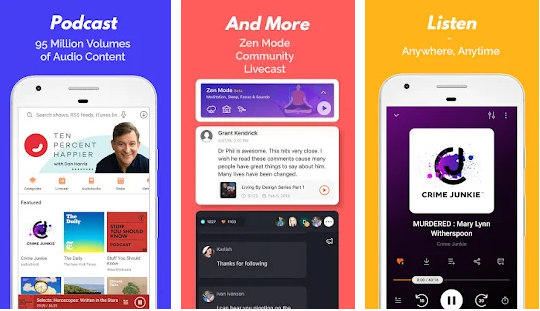 CastBox is a free podcast app for Android that has won numerous awards. It has a large selection of high-quality podcasts from a variety of sources, including Apple Podcast and Google Podcasts.
The software may be downloaded for free from the Google Play Store, and there are no adverts inside the free version. This app's best offering may be deemed that. It does, however, contain a $2 in-app purchase option.
CastBox serves over seventy languages globally, including over one million podcast channels. This software, like any other podcast app, has playback features that ensure flawless playback for podcast fans.
It also includes cloud syncing and the ability to listen to podcasts on any device. The app is compatible with Google Home, Amazon Echo, Chromecast, and the Android Auto service. CastBox offers an excellent assortment of well-recorded sounds to brighten your life, in addition to the conventional podcasting functions.
The newly launched Zen mode provides you with some wonderful natural noises and music to help you sleep better and be happier. This app won multiple Google Play awards as well as a few other third-party accolades, including one for the best overall app.
Stitcher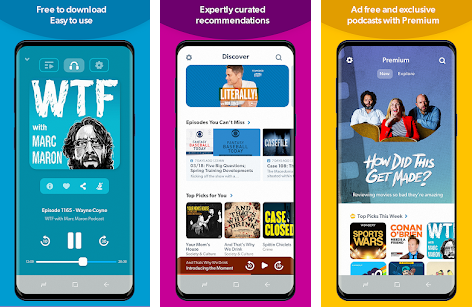 Stitcher stands out on the list since it focuses primarily on original and exclusive content. Its paid users have access to a large library of premium, exclusive podcasts. The software is available for free on the Google Play Store, although it does contain adverts. For an ad-free experience, you can choose from any of the paid subscription plans available. It costs $4.99 per month or $2.92 per month if paid annually.
The premium subscription includes a wonderful selection of tv programmes, news, and other dynamic resources in addition to Stitcher's unique content. With a customised home page and expanded discovery opportunities for audiophiles, it serves as a podcasting and news hub at the same time. It can also be used to listen to the radio. You can get all of your podcast needs to be met with Stitcher's free plan.
Spotify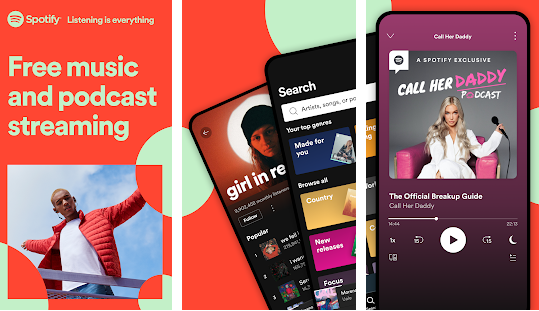 Spotify doesn't need to be mentioned again. Because this is one of the world's most widely used audio streaming services. For a few years, Spotify used podcasts to perk up their users and fans. You can get the free app on Google Play, but if you want to use all of the paid streaming capabilities, you'll have to pay for a membership.
Because Spotify is primarily a music streaming service, it cannot be called a major podcast app. The company's founders aren't particularly interested in podcasts. In any case, they have a variety of podcasts in many genres such as comedy, narrative, news, entertainment, and so on.
SoundCloud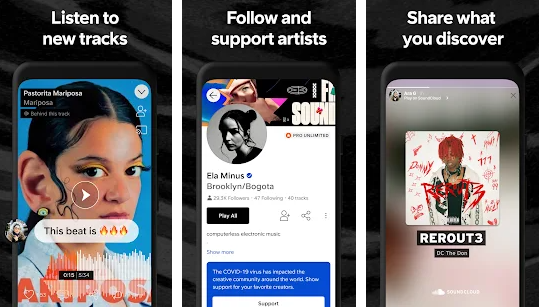 SoundCloud is a well-known audio hosting service that doesn't need an introduction. You may download it for free from the Google Play Store or use the web version. The free plan should be sufficient for you to discover outstanding news and entertainment podcasts. It has one of the greatest collections of audio files and music collections, believe it or not.
SoundCloud, like Spotify, is much more of a music-focused platform, hence podcasting was never a popular function. However, this app is currently the favoured podcast service of all well-known creators and celebrities. Music fans go to SoundCloud to create and broadcast podcasts because of the simple hosting options and integration.
The free SoundCloud plan includes adverts, but it also provides a lot of features and common capabilities. However, if you're interested, SoundCloud Go and SoundCloud Go+, their paid plans, offer an ad-free experience, offline streaming, and greater music. You can save as many tunes as you want for offline listening. You can test the premium subscription for a month for free if you want.
Podcast Go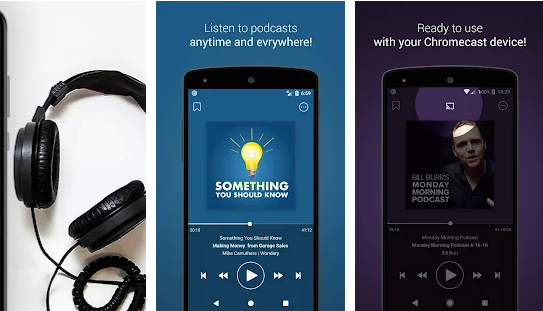 Podcast Go is a popular podcast programme for mobile devices that is noted for its consumer material UI. For both novice and professional podcast listeners, the design is incredibly appealing and easy. It's a free app that can be found on the Google Store. The company does, however, offer an ad-free version for $2.99.
We don't recommend buying the ad-free version because it has a small number of advertisements that are appropriate. Podcast Go is a Chromecast-enabled app featuring a variety of casting options. You can listen to the top podcasts from a number of categories, including humour, music, news, games, and education, with over 800,000 broadcasts available.
The software also allows you to download podcasts for offline listening. Asleep timer, speed rate control, theme customization, and the opportunity to create your own personalised playlists are among the other features of Podcast Go.
Conclusion
That concludes our assessment of the top podcast apps for Android, in which we did our best to include the most trustworthy and feature-rich apps to meet your daily podcast needs.
See More: