Google Analytics is one of the unique methods where you can get an accurate report about your website. Google Analytics for beginners might feel a little confusing at first but it is an ocean where you will find plenty of information and data. Anyone having a good knowledge of SEO and digital marketing knows how to use Google Analytics. It helps new users in creating an account, using tracking code, and setting up data filters. Many email marketing service provider uses Google Analytics to increase engagement for their business.
Without Google Analytics, you might commit some mistakes and will hit some hurdles, and face some inefficiencies. It is very important to ascertain basic vanity metric reports. To boost your website, Google Analytics is the best tool and if you have proper knowledge then you will surely excel in this field. It helps in analyzing the total number of visits to your website and helps in tracking down crucial data.
In this guide, you will get to know everything about google analytics and tips for beginners which will help them in improving their blogs, keep reading to find more.
What is Google Analytics?
It is a free tool, a type of application that helps people to understand traffic on their website. This platform will provide you with all the information related to your site and how to make changes to increase traffic. Google Analytics collects data and generates reports, these reports will help you in analyzing the performance of your website.
Need for Google Analytics
For digital creators and people who work online as freelancers, blog creators, and people engaged in email marketing service providers. It will help you in choosing accurate marketing tools for your website along with your other digital performance. You will be able to find out the location of your website visitors, the marketing channels that are driving the most traffic for your website, and also about the pages and blogs having more engagements.
Google Analytics For Beginners | Tips, and Tricks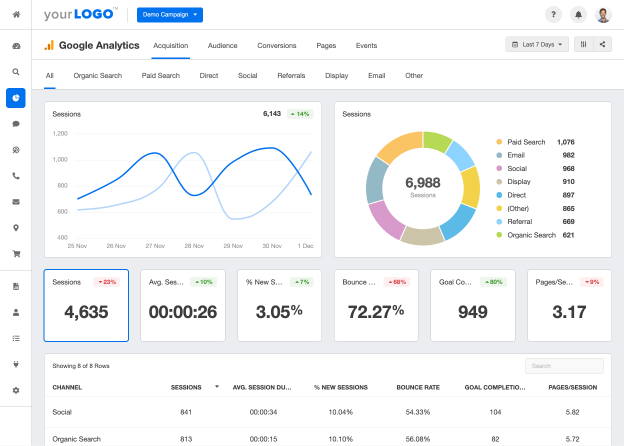 1. Use Segments
Segments help you in finding more about your visitors, where they are coming and information available about them online. You can set segments as per their locations or any specific details.
For example, a segment for people living in Canada and using an IOS device or segment for a conversion price of any unit.
Segments help you in analyzing the IP address and browser history of the returning users so that you make improvements to your website according to that. There are unlimited options available that you can make through segment and make your website famous.
2. Email Version For Reports
Sometimes Google Analytics delays in providing useful data, you have to wait for hours to get information about your website traffic or information which will be helpful for you in increasing sales. The information and reports available on the website are sometimes complex and create confusion for the users.
Make settings for custom alerts where you will email notifications or text messages whenever some changes occur.
This feature also allows you to customize your notification as per your requirement, if you want an alert for any specific change, you can simply mention that in settings. Create as many alerts as you can because it will help you in saving lots of time and effort.
3. Keep Track of Your Website Speed
In the 4G and 5G era, no one wants to spend time on a website that took more than 10 seconds to load. And Google itself mentioned that speed is the most important factor that matters for your website engagement.
To get a brief overview of the speed of your website, checking Google Analytics is very necessary. It will give you a complete idea and ways to solve the problem. The report provides a general idea about the speed of your website whether it's too slow or as per the norms.
But don't rely upon the Google Analytics reports as they are not accurate all the time and don't give exact information to its users. Many email marketing service provider uses a third-party tool to analyze the speed of their website.
4. Set Goals
Newcomers must set goals for their website, including how many visitors they are expecting in the first quarter or first month and how many have visited. Goals help us in comparing the actual performance with the ascertained performance and accordingly we can make changes to improve the process.
Google Analytics helps us in finding out where we are lacking and which aspects require more improvement. It is also one of the features of Google Analytics that allows you to set goals for your website. It helps you to keep track of the total number of people who completed tasks while visiting your website.
For example, goals like making email registration popups and how many visitors signed up on your website. You can make multiple goals for different events like contact email sending, scheduling meetings phone calls, etc.
5. Comparing Traffic Trends
You can also compare traffic trends through Google Analytics. If you belong to a specific industry then you can compare your traffic trend with the other traffic trends of some famous businesses in the same industry from the past.
Traffic trends basically help you in providing historical information of some previous websites. With Google Analytics you can also use the tools to improve your traffic trend.
See More: How to Use Google Trends to Make Money
6. Remove Internal Traffic
It's alright to be a little self-obsessed but not in the case of your website, if you are checking your website more than the outside visitors then you are fooling yourself with the reports and data. Frequently visiting your website impacts your data, adds more traffic, and degrades your conversion rates as well.
A better way to stop this from happening is using 'filters' this will help you in excluding all the internal traffic from a particular IP address.
Conclusion
This is the complete guide to google analytics for beginners, if you want to have more knowledge about Google Analytics and its uses, go through the points mentioned above and you will get an overall idea. Google Analytics will not just make your blogging career easy but it will also help you in boosting the traffic to your website and increasing more and more engagement.
It enhances the credibility of your digital marketing company and will help you in making a place on the internet. Also, after sometimes Google analytics will become a cakewalk for you, so enjoy this journey.
See More: